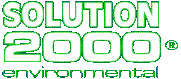 Environmental Products for the 21st. Century
---
New environmental parts cleaner fluid.
Designed for Hot or Cold water Parts Washers
---
SOLUTION 2000™ colloidal, environmental parts cleaning fluid represents the latest in colloidal micelle technology.

ultra high solvency.

extra fast separation of oil.

easy oil skimming and recovery.

rarely needs to be replaced.

no reduction in cleaning power, over time.
---
parts cleaning fluid is:
---
parts cleaning fluid is not:
toxic

hazardous

polluting

carcinogenic

an endocrine disruptor

flammable

fuming

high foaming

a solvent

a soap

butyl cellosolve

a nitrate

an enzyme

a phosphate

an emulsifier.

---

Replaces:
mineral spirits (varsol).

kerosene

orange terpenes, d'limonene.

pine terpenes, pinene.

other hydrocarbon solvents.
For the removal of: oil and grease from metal, plastic and other materials.
For use in: hot or cold aqueous parts washers systems, degreasing tanks, tumblers, power washers, spray booths, ultrasonic degreasers, etc.
---
SOLUTION 2000 Parts Washer Fluid is economical because:
It rarely needs to be replaced.

The oil phase sits on top of the water phase to prevent evaporation, when not in use.

It does not need special disposal.

It does not need to be in an explosion proof or fire proof setting.