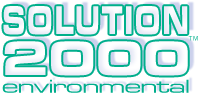 An environmental solvent replacement for the 21st. century.
---
Approvals, Independent Lab Tests
Letters of Recommendation.
---

Literature:
General Information: Glossy brochure, 4 page.
Press Release: "EnviRite News".
Information Sheet: SOLUTION 2000™ "Features and Benefits" condensed.
Special Applications: Describes product applications by industry.
Dilution Data Sheets: Ratios for SOLUTION 2000™ Conc., 5X and 10X .
Dilution Data Sheets: U.S., Imperial and Metric measure.
Cost, Use/Dilution: Consumer, wholesale, distributor and master distributor.
Price Lists: Consumer, wholesale, distributor and master distributor.
Fax Promo: Four page presentation.
Mail Promo: One page presentation. "Solution 2000 Has It All".
---
20 L. Cube Dilution Data Program with directions for:
Carpet Cleaning Guide
Dental Program
Food Service Program
Housekeeping and Maintenance Program
Machine Shop Program
Marine Program. Tankers: SOLUTION 2000™ 5X
Parts Washer Program: SOLUTION 2003 and 5X
Oil Rig Program: SOLUTION 2000™ and 5X
Printing and Bindery Program
Vehicle and Shop Maintenance Program
Veterinarian Program
Window Washer's Guide
---
Material Safety Data Sheets:
SOLUTION 2000™ has no hazardous components.
MSDS available for all formulations.
---
Government Approvals:
USA, OSHA:
Complies with Specs 29-CFR-1910-1200.

USDA, Food Safety Inspection Service:
Food-safe per Title 7 (part 59), Title 9 (part 317, 381). Food-safe per Title 7 (part 59), Title 9 (part 317, 381)

Consumer and Corporate Affairs Canada:
Deemed non-hazardous. Approval of label and safety claims.

Health and Welfare Canada:
Health Protection, Drug Information Branch. Drug Identification Number not required.

Agriculture Canada:
Food Production and Inspection Branch, Chemical Division. Disinfectant registration (P.C.P.) Registration not required.

Health and Welfare Canada:
Health Protection Branch, Food Packaging. Chemical Evaluation Division. Safe for use in food preparation areas.

Agriculture and Agri-Food Canada:
Food Production and Inspection Branch. Safe for use in all food packaging and production plants.

MAF, New Zealand:
Meat, Agriculture and Fisheries. Approved as a sanitizer in food production plants.
---
Toxicology Test:


5X:
Acute Oral: Non-toxic

Acute Dermal: Non-toxic

Inhalation: Not Applicable

Primary Skin Irritation: Non-Irritant

Primary Eye Irritation: Non-Irritant
---
Food taint transfer tests:
Foodra Laboratories Report, Dairy Products: Approved
---
VOC's:
EPA Test Method 24:
SOLUTION 2000™ Concentrate exceeds proposed SCAQMD requirements 01/01/2006.
CGSB:
Acceptance Program test identified only trace VOC's.
---
University Medical Hospital Report:
Radioactive decontamination of glass, lead and perspex: Passed.
Removal of protein, hemoglobin and acid buffering tests: Passed.
---
Oil Emulsion Stability Test:
Certificate of analysis, ASTM-D3342

---
Oil Spill Insitu Cleanup: Report
Independent case history. Oil spill detention pond USA: Successful
---
Aircraft Approvals:
Boeing D6-17487, Revision
Boeing BAC 5749.
Boeing BAC 7219.
Douglas CSD #1, reissued
AMS 1556A Lockheed.
---
Testimonials, Letters of Appreciation, Canada, USA:
United Technologies, Pratt and Whitney, Canada

Toronto Sun Newspaper, Canada

University of California, USA

Sheraton Hotels USA

Medical Centre, USA

Contract cleaner, Canada

Window Cleaner, Canada

Golf Club Manufacturer, USA

Enterprise Property Group, Canada

Regional Police Department, Canada

Aircraft Wing Manufacturer , Multinational

Editorial, "Sanitation Canada Magazine"

Editorial, "Enviro-Tech News"

State of Alaska, Letter of Acknowledgement, Exxon Valdez oil spill.
---
Some Multinational, Corporate Approvals.
Amoco Chemical

B.P.

Chrysler

G.E. Nuclear

General Motors

IBM

Pepsico

Siemens

Solutia Inc.

The Star Newspaper

United Technologies

Westinghouse
SOLUTION 2000 International
The world-wide source of SOLUTION 2000™
SOLUTION 2000™ is a registered trademark of EnviroSan Products Ltd.
Environmental Since 1975
Copyright © 1997 - 2004. All rights reserved.
This site last updated November 16, 2004