Replace toxic chemicals & hazardous solvents with...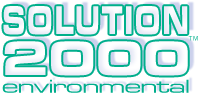 Biodegradable Degreaser, Biodegradable Cleaner, Colloidal Agent
Designed for Cold Water Parts Washing 
environmental parts washer fluid represents the latest in colloidal micelle technology.




Ultra high solvency.
extra fast separation of oil.
easy oil skimming and recovery.
rarely needs to be replaced.
no reduction in cleaning power over time.

Parts Washer Fluid IS:
environmental
biodegradable
safe to users
non-flammable
effective
a de-emulsifier
a reverse micelle
economical
re-usable
easy to skim
low odor
sewer disposable
low foaming
rust inhibited
aluminum corrosion inhibited
water soluble
For Distributors,
IS:

Ultra Concentrated: Available 10 fold for packaging abroad.

Free: Exclusive Licensed Territories for Master Distributors.

Supported: All leads forwarded to distributors.
SOLUTION 2000 International
The world-wide source of SOLUTION 2000™
SOLUTION 2000™ is a registered trademark of EnviroSan Products
Environmental Since 1975
Copyright © 1997 - 2006. All rights reserved.
This page last updated December 10, 2010