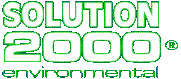 Colloidal Agent, Environmental Cleaner & Degreaser
---
Replace toxic chemicals and hazardous solvents with...
...a truly environmental product.
SOLUTION 2000™ is both environment and user friendly.
---
You have found:
EnviroSan Products Ltd.
Environmental Since 1975
The number one manufacturing source of
Optimized Colloidal Agents for Cleaners and Degreasers.
---
Distributors:

SOLUTION 2000™ is Safe:
Non toxic - by independent toxicology test.

Reduce injuries and damage

Environmental:
99% Biodegradable within 7 days.

Contains no known pollutants.

Research: Optimum micelle formation.
Provides exceptional colloidal suspension of oil and dirt.

No re-depsoition of soil.

Effective:
Cost effective:
Profitable:
Free:
Exclusive distributor territories.

Free trademark licenses worldwide.

Sales Leads:
Product Acceptance:
Tested and approved by multinational corporations, E.G.:
Air Canada

Amoco

Chrysler

GM

GE

IBM

Pratt & Whitney

United Technologies

Pricing:
Get the lowest prices.

Buy direct from the manufacturer.

Buy packaged goods or in bulk.

Use our brand or we will private brand.

Buy 10 fold concentrate for packaging abroad.

Future:
Build a solid future with EnviroSan Products Ltd.

Manufacturing Environmental Products Since 1975.

Registered:
SOLUTION 2000™ is a Registered Trademark.

Strategis, Government of Canada web site.

Win Exports, Government of Canada web site.