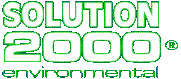 Environmental Products for the 21st Century
Optimized Colloidal Agent, Environmental Products, Cleaners and Degreasers
---
Replace hazardous chemicals and solvents,
in industry and at home...
... with SOLUTION 2000™ Optimized Colloidal Agent.
---
New Environmental Products
Featured Environmental Products for Distributors
SOLUTION 2000 International.
The world-wide source of SOLUTION 2000™ Environmental Products.
SOLUTION 2000™ is a Registered Trademark of EnviroSan Products Ltd.
Environmental Since 1975.
Copyright © 1997 - 2002 EnviroSan Products Ltd. All rights reserved.
Web design by: Websters Creations
This site last updated October 24, 2002