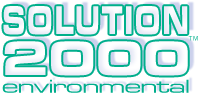 A non-toxic cleaner and non-toxic degreaser for the 21st. Century
---
SOLUTION 2000™ Cleaner & Degreaser Concentrate:
Safe for Users and the Environment
---

is a product of nano-technology. It is a colloidal suspension agent and a non-toxic, environmental, cleaner and degreaser. It is composed of biodegradable surfactants, sequestrants and hyper-wetting agents. SOLUTION 2000™ is 99% biodegradable within seven days. SOLUTION 2000™ was formulated in conjunction with one of the world's top colloidal surfactant scientists, who has a number of books to his credit on the subject of Surfactant Science. Our Material Safety Data Sheet reflects the parameters for his formulation. The research was conducted in collaboration with a university research team, a government research agency, EnviRite International Inc. and EnviroSan Products Ltd.

Material Safety Data.


The Material Safety Data Sheet for SOLUTION 2000™ reflects the safety standards as set out by the "Canadian Center for Occupational Health and Safety", Hamilton, Ontario, Canada. These standards are among the highest in the world. Further, SOLUTION 2000™ has federal government approvals from Consumer and Corporate Affairs Canada, Product Safety Branch, stating that the product is not: ". . . regulated by "The Hazardous Products Act" or other Hazardous Substance Regulations. Hence, there is no required precautionary labeling for the product."

Toxicology Highlights
A toxicology test was conducted on SOLUTION 2000™ 5X Concentrate by an independent laboratory. The test was in accordance with the US "Federal Hazardous Substances Act", (16 1500 CFR). The purpose of the test was to rule out any possible synergy between the components in SOLUTION 2000™ 5X Concentrate that could cause toxicity or irritation.
The results follow:

Acute Oral Toxicity:
"The material is classified as non-toxic by oral administration."
Acute Dermal Toxicity:
"The material is classified as non-toxic by dermal administration."
Primary Skin Irritation:
"The material is not classified as a primary irritant or as corrosive by dermal application."
Primary Eye Irritation:
"The material is not classified as a irritant by ocular application."
Approvals and Independent Laboratory Tests.


Further to the above approvals, SOLUTION 2000™ is approved for use in food production and preparation facilities by the Federal Government of Canada's, Agriculture and Agri-Food Canada, Health and Welfare Canada, Health Protection Branch, Agriculture Canada, Food Production and Inspection Branch and the United States Department of Agriculture. SOLUTION 2000™ also complies with OSHA Specifications: 29-CFR-1910-1200.

SOLUTION 2000™ has been "Taint Transfer Tested" for the British Dairy Industry, approved in many aircraft manufacturers' specifications, and approved for use by, GM, Chrysler, IBM, GE and United Technologies among many others.

For more details please see our list of:

"Approvals, Independent Lab Tests and Letters of Recommendation"

SOLUTION 2000 International
The world-wide source of SOLUTION 2000™
SOLUTION 2000™ is a registered trademark of EnviroSan Products Ltd.
Environmental Since 1975

Copyright ฉ 1997 - 2010. All rights reserved.
This site last updated May 30, 2010