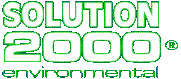 Environmental Products for the 21st. century.
Colloidal Agent
Environmental Degreaser and Cleaner
---
Chemical Proportioning Systems
---
The Mixing Station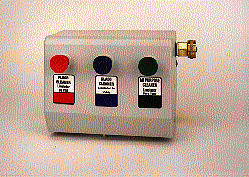 The economical chemical proportioning system that blends the desired mixture of chemical concentrate and water. Available in stainless steel or low cost injection molded plastic cases. The Mixing Station comes complete with 1 GPM filling capability and can be field converted to 4 GPM flow rate.
Easy to use and simple to install the Mixing Station provides the distributor a quick return on investment and provides great use cost control for the end user.
---
The Mixing Station with Spouts
The economical way to fill spray bottles by mixing chemical concentrate with water. This compact system features an optional drip tray, rugged stainless steel case and the ability to dispense from any size chemical container.

---
The Mixing Center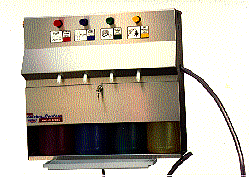 This proven system features a sturdy locking stainless steel cabinet that encloses from 1 to 4 one gallon containers of cleaning chemical concentrate. Chemicals are automatically proportioned with water when the user actuates the venture valve button for the product desired. Ready to use solutions dispense direct to spray bottles via our no drip - low foam pour spouts. Mop buckets can be filled with standard bucket fill hose. System includes a built-in drip tray and choice of backflow preventers to meet any backflow prevention requirement.
---
The Aire-Gap

An advanced high-hazard backflow preventer with built-in venturi eliminates the possibility of chemical backflow to the potable water supply. Reverse pressure can not draw chemicals back to the water source.
Meets uniform plumbing code requirements and has certified approvals in many cities across the U.S.
---
The Flex-Gap

The low foaming, high hazard backflow preventer with built-in venturi. This device has gained wide acceptance in European countries and is gaining certifications in the U.S. Meets German DIN 3266 specifications
---
Feeders For Grease Traps and Drains,
Microprocessor Timer Control.
The MTC Systems will automatically meter precise amounts of chemical treatment at any time of the day or night without waste. The microprocessor circuit board features a LCD clock/display with very simple programming. Programmable in minutes and seconds with up to 24 programmable events with safe wall mount transformer, AC power or battery operation. These systems provides all the versatility you need! Available in plastic watertight or stainless steel cases.
SOLUTION 2000 International.
The world-wide source of SOLUTION 2000™ Environmental Products.
SOLUTION 2000™ is a Registered Trademark of EnviroSan Products Ltd.
Environmental Since 1975.
Copyright © 1997 - 2002 EnviroSan Products Ltd. All rights reserved.
Web design by: Websters Creations
This site last updated October 24, 2002