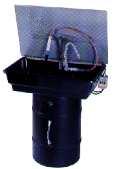 $ 699.95 USD + S&H
Contact Us:
EnviroSan Products Ltd.
"designed to help protect the environment"
The Sensible Solution.
Designed to Last!
Features:
Corrosion resistant heavy-duty pump
Flexible spigot
Flo-thru brush with adjustable fluid control
Designed for easy servicing, heater pump and thermostat module can be removed in minutes from sink basin
Heavy duty vacuum formed sink
Liquid level sight tube
Operating fluid capacity 20-25 Gals.
Automatic thermostat preset to 110 degrees
Ground fault circuit interrupter for added safety
115 volts, 15 amps
Individual switches for heater and pump
Options:
930 - 1 * Stainless Steel Lid
930 - 2 * Stainless Steel Parts Tray
930 - 3 * Stainless Portable Tray with 5" Casters
P-26 Filter System
Tank Dimensions: Width: 23", length 34", Depth 9".
Weight: 57 Lbs.